Chapter Officers
Noelle Weber
President
Noelle is a third year majoring in Marketing and Finance. When she's not busy completing her co-op rotation, you'll most likely find her at yoga, on coffee dates, or at Skyline. Kappa has given her best friends and future bridesmaids who inspire her everyday. One of Noelle's favorite aspects of Kappa is being able to experience everyone's achievements and celebrate them as a chapter. Being a part of this chapter had motived her and pushed her to places she never thought she would reach. Kappa had built her into the women she is and it could not have been done without the women who surround her.
McKenzie Goyert
Vice President of Standards
Kenzie a third year student here at UC and a Northern Kentucky native. She is part of the College of Design, Architecture, Art, and Planning with a major in Interior Design. Her favorite part about her home town is the church she belongs too, St. Joseph Church. For Kenzie, one of the most valuable parts of Kappa is the mutual support and positivity she receives from her sisters. When Kenzie was going through recruitment, she felt an instant connection with the sisters of Beta Rho, and wanted to surround herself with other women who would challenge me to be my best, but would be there for me in any circumstance. When Kenzie isn't splitting her time between Kappa and DAAP, you can catch her learning about all she can about the environment.
Mia Turnbull
Vice President of Organization
As sophomore here at UC, Mia is majoring in Early Childhood Education and minoring in Spanish. She prides herself in being from Columbus. A few of her favorite things about home are getting lost in her favorite record store near downtown, a spunky breakfast joint called Katalina's & the pancake balls they are famous for, and of course her lovable little English bull dog named Hank! When she isn't busy behind the scenes of Kappa and Chapter Council, you can catch her going yoga and starting off her day's early with a cup of coffee in hand while watching her favorite women, Kathy Lee and Hoda. Kappa has given Mia everlasting friendships and has formed her into a leader and better person. Three facts about Mia are: Fleetwood Mac is her favorite band, she loves to make pour over coffee, and after college she hopes to teach English in a Hispanic country!
Alicia Cristino
Vice President of Academic Excellence
Alicia is a third year here at UC with a major in Nursing. When Alicia has time off from academics or Kappa, you'll find her scoping out hip and trendy restaurants or going to visit her family and puppy back home in Cleveland. She is also a coffee connoisseur, and lives right next to one of Cincinnati's cutest coffee shops! What drew Alicia to Kappa was how welcome she had felt when she entered the house and how everyone pushes you to become an even better person. Kappa has pushed her to work even harder with academics and built her life lasting friendships.
Riley Tanner
Recording Secretary
Riley's a first year student majoring in Communication Sciences and Disorders. She is new to Cincinnati as she is from Louisville, Kentucky. Now that she's here in Cincinnati, she has grown to love Skyline Chili. Her favorite part about Kappa is that it keeps her busy and involved. She loves meeting new people and getting to know her sisters better, it keeps her from missing home too!
Katelyn Egbers
Corresponding Secretary
Katelyn is a first year student from Northern Kentucky majoring in Organizational Leadership with a leading track in Human Resources. When Katelyn isn't splitting her time between class and Kappa, you'll catch her waiting New Girl and hanging out with friends. Kappa has given her some of her best friends and aspires to grow within Kappa and push herself to her best ability.
Katie Byrne
Treasurer
Katie is a second year at UC majoring in Finance and International Business. She is a Cincinnati native and attended Summit Country Day for high school. She has an older brother and younger sister. When Katie isn't crunching Kappa's numbers you can find her spending time with friends. She is so excited to serve on chapter council for her second year and cannot wait to make Kappa even greater!
Emily Greely
Marshal
Emily is a third year here at UC majoring in accounting. She's from Columbus with a natural love The Ohio State Buckeyes. She lives for coffee, dogs, and trying to keep her plants alive. Emily cannot wait to serve a second year on chapter council!
Brooke Fraizer
Registar
Brooke is a first year student here at UC with a major in Finance. As a Cincinnati native, what she loves most about her city is Skyline Chili. When she isn't studying or at the Kappa Palace, her she loves to watch Netflix and catch up on her favorite shows like Gilmore Girls, Gossip Girl, 90210 and One Tree Hill (which was tragically removed). Also, she loves to play sand volleyball and travel around the world, which her all time favorite place travelled to thus far being Maui. Her favorite part of Kappa is our sisterhood, which is also what led her to choosing Kappa on preference night as she already felt home and part of this amazing sisterhood. She is so excited to make Kappa even more awesome than it already is!
Caroline Kerber
Education Chairman
Caroline's a second year student majoring in Early Childhood Education. Caroline has lived in Cincinnati her whole life, and loves to spend time with her family and friends. She loves to stay active and workout in her free time. Caroline's favorite part about Kappa are the women in Beta Rho. Being surrounded by her sisters continually makes her feel happy, important, and motivated. 3 fun facts about Caroline are that she hiked the Grand Canyon this summer, want's to backpack through Europe one day, and WILL marry Leonardo DiCaprio.
Kelly Lamb
Event Chairman
Kelly is a third year student here at UC and a second year in Kappa. She is majoring in Marketing + International Business and will be co-oping at Kellog Headquarter's in Denver, Colorado this summer. She is a native to the Cleveland area, with a love for Lake Erie and the Cleveland Metroparks. What has made Kelly love Kappa is that her sisters have encouraged her to take lead and do things she had never thought she would have done on her own. She will be traveling Germany this April, adding her to our long list of Kappa's who love to travel!
Kelly Higgins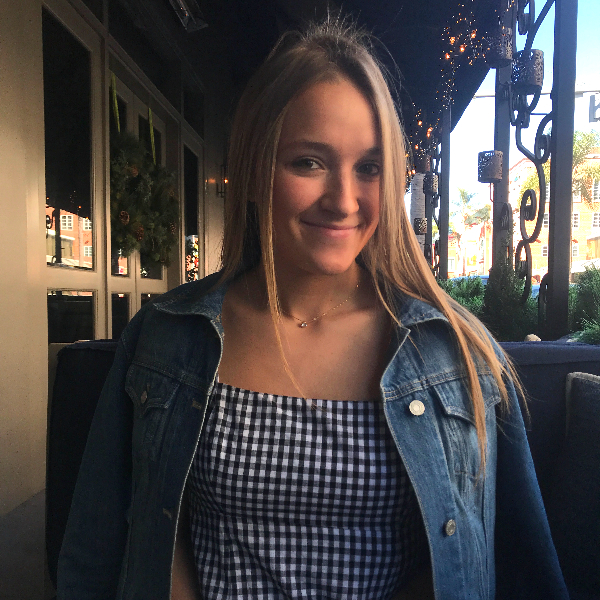 House Chairman
Kelly is a third year majoring in marketing here at UC. Kelly's a born and raised Cincinnatian who loves spending time with her little sister. When she has free time she is always taking trips to visit her friends & family all over the country! Kelly is excited to see what this year in store for Beta Rho.
Claire Binford
Membership Chairman
Claire's a second year in college of business, double major of Finance and Economics. She is a hardcore Cincinnati lover and vow's to live in a big city for the rest of her life after growing up in the suburbs of Northern Kentucky. Fun facts about Claire: She has a pet hedgehog, is addicted to coffee, and if it wouldn't cause early onset diabetes, she would eat dessert for every meal.
Carley Lucas
New Member Chairman
Carley is a fourth year in Kappa and second year serving on Chapter Council, with her hometown being just across the river in Northern Kentucky. She had interned with the NFL in New York City and gained valuable experience toward her goals for the future. She is so excited to welcome her New Members with open arms and show them all Kappa has to offer.
Carly Schmidt
Panhellenic Delegate
Carly is a third year here at UC and in Kappa. She is a Cincinnati (Mason, OH) local with lots of spirit and pep. She is a devoted student and friend, hence why Panhellenic Delegate serves her well. She is excited to tie our bonds to the Panhellenic community tighter and create lasting connections.
Tessa Walsh
Philanthropy Chairman
Tessa's a second year student majoring in Early Childhood Education. She is a dedicated friend and sister who loves to spend time with those close to her. What inspired Tessa to be in Kappa was how everyone shares the same passion for the fraternity and all the positive energy that is shared between her sisters. Fun facts about Tessa: She has an unhealthy addiction to peanut butter, she's one of four girls in her family, and she's swam with wild sea turtles in Hawaii.
Kate Mangarella
Public Relations Chairman
Kate is a second year attending the College of Design, Architecture, Art and Planning, majoring in Communication Design. She was born and raised in New Jersey, but can't get enough of Cincinnati and the Midwest. She is currently co-oping at FRCH Design Worldwide focusing on retail design. She attends music festivals annually and cannot survive without tacos. When she isn't working on design or keeping up with her Kappa sisters, you'll most likely find her scrolling through Pinterest. Kappa has given her so much, and she cannot wait to give Kappa all she has to offer!
Hannah Stoneseipher
Risk Management Chairman
Hannah's a second year student majoring in Special Education. She is a Cincinnati local, but Southern California born. In her free time, you can catch Hannah either in a yoga or spinning class. What made Hannah to be in Kappa was how motivated she felt after speaking to girls in Kappa throughout recruitment. She realized that the members in this chapter were girls who she wanted to surround myself with to grow as a woman, student, friend, and sister. Her favorite part of Kappa is all our sisterhood events. She loves to get to know members she isn't as close with and loves to make everyone feel at home.